I Am The Highway: un tributo a Chris Cornell repleto de covers imperdibles
Con participaciones estelares de Metallica, Josh Homme, Foo Fighters y los miembros restantes de Soundgarden, Audioslave y Temple of the Dog acompañados por numerosas estrellas, el tributo dejó varios momentos históricos para los fans.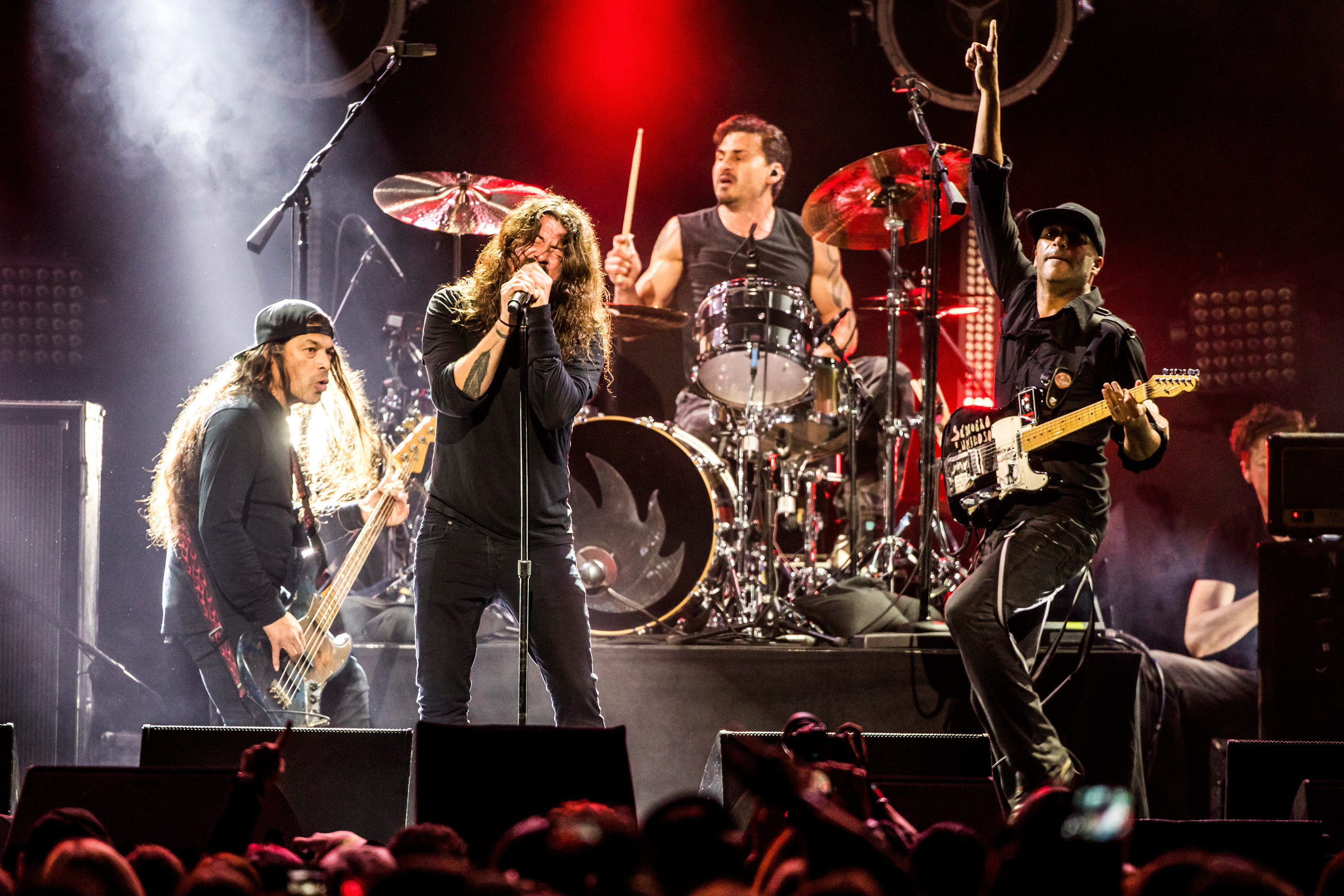 Este 16 de Enero en The Forum, en Los Angeles, a casi dos años de su trágica muerte, tuvo lugar el tan esperado tributo a
Chris Cornell:
I Am The Highway
. Lo recaudado en el evento, presentado por
Jimmy Kimmel
, fue donado a la
Chris and Vicky Cornell Foundation
y a la 
Epidermolysis Bullosa Medical Research Foundation. 


El concierto, de cerca de 5 horas de duración, contó con un line up inolvidable, plagado de colaboraciones sorprendentes y covers increíbles. El show en cuestión inició con
The Melvins
, y a lo largo de la noche contó con la participación de
Foo Fighters
que, antes de retirarse del escenario, interpretó una versión acústica de
Everlong,
con
Dave Grohl
presentándola con las siguientes palabras:
"con todo este amor, la persona que más podría haberlo apreciado no pudo estar presente esta noche, así que quiero tocar una canción más para él".


Previamente a la presentación de
Audioslave,
 que contó con invitados especiales, como
Robert Trujillo
y
Dave Grohl
para un cover inolvidable de
Show Me How To Live,
subieron al escenario
Josh Homme,
quien interpretó
Rusty Cage
,
Adam Levine
y
Miley Cyrus,
cuya interpretación de
Two Drink Minimum
sorprendió al público, que pareció olvidarse instantáneamente de la cantidad de críticas que había recibido la cantante al anunciarse que formaría parte del tributo.
La noche continuó con una aparición de
Ziggy Marley
y
Tori Cornell
, hija del músico, que tocaron
Redemption Song
. A ellos les siguió un show de 25 minutos de
Metallica,
presentados por
Jack Black
, donde tocaron tanto temas de la carrera de
Cornell
como propios.
Luego de varios covers por artistas de renombre en Estados Unidos como
Ryan Adams
, llegó la hora de
Temple Of The Dog,
pero sin la participación de
Eddie Vedder
ni de
Mike McCready,
acompañados de varios invitados, incluyendo al regreso al escenario de algunos artistas que ya se habían presentado anteriormente, como
Miley Cyrus.


La velada cerró con
Audioslave,
acompañados de diferentes invitados para cada canción del setlist, que finalizó con
Black Hole Sun.



Setlist Completo de I Am The Highway: A Tribute to Chris Cornell:

– The Melvins (Buzz Osborne, Dale Crover, Steven Shane McDonald, Jeff Pinkus)
Kicking Machine
With Your Heart Not Your Hands
Leech
Heart Of Honey
Spoonman
– Rita Wilson
The Promise
– Nikka Costa y Alain Johannes
Disappearing One
– Chris Stapleton
The Keeper
– Foo Fighters (Dave Grohl, Taylor Hawkins, Nate Mendel, Pat Smear, Chris Shiflett, Rami Jaffee)
No Attention
Earache My Eye
Girl You Want
Everlong (Acústico)
– Josh Homme
Rusty Cage
– Adam Levine, Jesse Carmichael y Stone Gossard
Seasons
– Miley Cyrus
Two Drink Minimum
– Audioslave (Tom Morello y Brad Wilk, sin Tim Commerford)
Cochise (con Geezer Butler y Perry Farrell)
Be Yourself (con Geezer Butler y Juliette Lewis)
Set It Off (con Chris Chaney, Sam Harris y Tim Mcllrath)
Like A Stone (con Chris Chaney y Brandi Carlile)
Show Me How To Live (con Robert Trujillo y Dave Grohl)
– Toni Cornell, hija de Chris Cornell, y Ziggy Marley
Redemption Song
– Metallica (James Hetfield, Lars Ulrich, Kirk Hammett y Robert Trujillo)
All Your Lies
For Whom The Bell Tolls
Master of Puppets
Head Injury
– Ryan Adams (Daphne Chen, Richard Dodd, Eric Gorfain, Leah Katz, y Don Was)
Dead Wishes
Fell On Black Days

Preaching The End Of The World (Nikka Costa, Alain Johannes, Stone Gossard, Brendan O'Brien y Josh Taylor)
Can't Change Me (Nikka Costa, Alain Johannes, Stone Gossard, Eric Avery y Josh Freese)
Hunted Down (William DuVall, Jerry Cantrell, Stone Gossard, Jeff Ament, y Josh Freese)
Temple Of The Dog (ausencias de Eddie Vedder y Mike McCready)
All Night Thing (Fiona Apple, Brendan O'Brien, David Garza, Jeff Ament, y Matt Chamberlain)
Reach Down (Miguel, Nikka Costa, Stone Gossard, Brendan O'Brien, Jeff Ament y Matt Cameron)
Say Hello 2 Heaven (Miley Cyrus, Brendan O'Brien, Stone Gossard, Jeff Ament y Josh Freese)
Hunger Strike (Brandi Carlile, Chris Stapleton, Stone Gossard, Brendan O'Brien, Jeff Ament y Matt Cameron)
Soundgarden (Kim Thayil, Ben Shepherd y Matt Cameron)
Rusty Cage (con Taylor Momsen)
Flower (con Marcus Durant)
Outshined (con Marcus Durant y Stone Gossard)
Drawing Flies (con Taylor Momsen, Buzz Osbourne, Matt Demeritt y Tracy Wanamae)
Loud Love (con Taylor Momsen, Tom Morello y Wayne Kramer)
I Awake (con Taylor Hawkins y Buzz Osbourne)
The Day I Tried To Live (con Taylor Hawkins y Buzz Osbourne)
Black Hole Sun (con Brandi Carlile, Peter Frampton, Tim Hanseroth y Phil Hanseroth)